CHILDREN ARE PAYING THE HEAVIEST PRICE
The dramatic escalation in violence witnessed in the occupied Palestinian territory (oPt) and Israel is deeply alarming with horrendous consequences for children's lives and wellbeing. Every rocket fired, every airstrike, and every bullet fired further endangers children in Gaza and Israel, and leaves their young minds scarred.
No child in Gaza is safe at the moment. More than 3,400 children and counting have been killed in 3 weeks. That surpasses the annual number of children killed across the world's conflict zones since 2019. With the death toll climbing, children are at risk and terrified. Children will bear the brunt of the intensification of attacks in Gaza, with more deaths, injuries and distress likely, not to mention suffering from serious longer term mental health impacts – they've never emerged unscathed. The killing and maiming of children, along with attacks on schools and hospitals, is a grave violation, and those responsible should be held to account for their actions.
Children are also suffering from hunger, lack of shelter and are facing terror every day. With limited aid able to reach them, children are facing a humanitarian catastrophe. Children are always the first to suffer in any conflict. Everything possible must be done to protect all affected and at-risk children from harm – and provide them with the support they need.
Your donations make this support possible.
OUR RESPONSE
The situation is evolving fast and the violence continues. Our teams have been working around the clock to preposition vital supplies – such as drinking water, hygiene products, food parcels and blankets – to meet the needs of impacted children. Three of our aid trucks have already entered Gaza – but this is not enough.
Based on the limited aid supplies currently available within Gaza, we have also been responding through partners, distributing water and hygiene products to families in shelters and delivering to families in their homes. But it is a drop in the ocean. This will in no way meet the colossal scale of needs. The availability of water, food, fuel, and medical supplies is critically low in Gaza. There must be consistent safe passage for humanitarian aid and personnel, and it must happen now. Time is costing lives.
As soon as it's possible to do so, our teams are ready to scale up our response further in Gaza through:
• Distributing more essential supplies, such as water, food, toiletries, cooking utensils, and other household essentials.
• Delivering Mental Health and Psychosocial Support services for children and caregivers.
• Setting up Child Friendly Spaces so children have a safe space to play and recover.
• Distributing warm clothes and blankets, as well as cash and vouchers so families can buy food, medicines and any other essentials.
• Providing fuel and water infrastructure for hospitals and distributing water storage tanks.
• Ensuring children continue to have access to education, by setting up temporary learning spaces and repairing damaged schools
• Identifying the most at-risk children for referrals to protection related services.
• Deploying our Emergency Health Unit and procuring essential medical equipment
We are calling for a ceasefire now by all parties in the conflict.
Your support is urgently needed for these children and their families.
DONATE NOW TO SUPPORT CHILDREN LIVING IN CRISIS.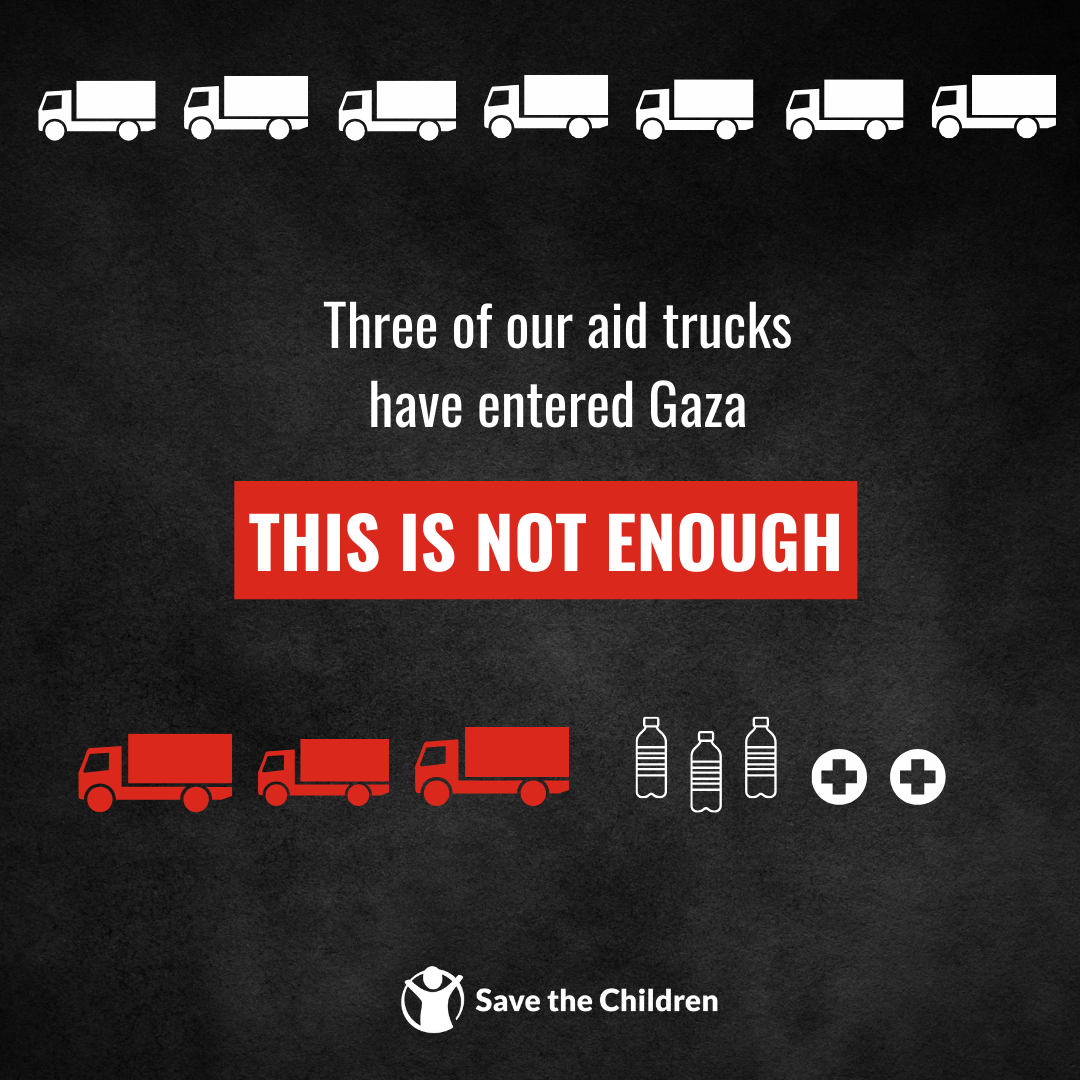 OUR CHILDREN'S EMERGENCY FUND
Your donations will be channelled to our Children's Emergency Fund and used to empower children and their families devastated by crisis – like the Gaza-Israel crisis – to stay safe, healthy and to rebuild their lives. Your donations will support children wherever the need is greatest.