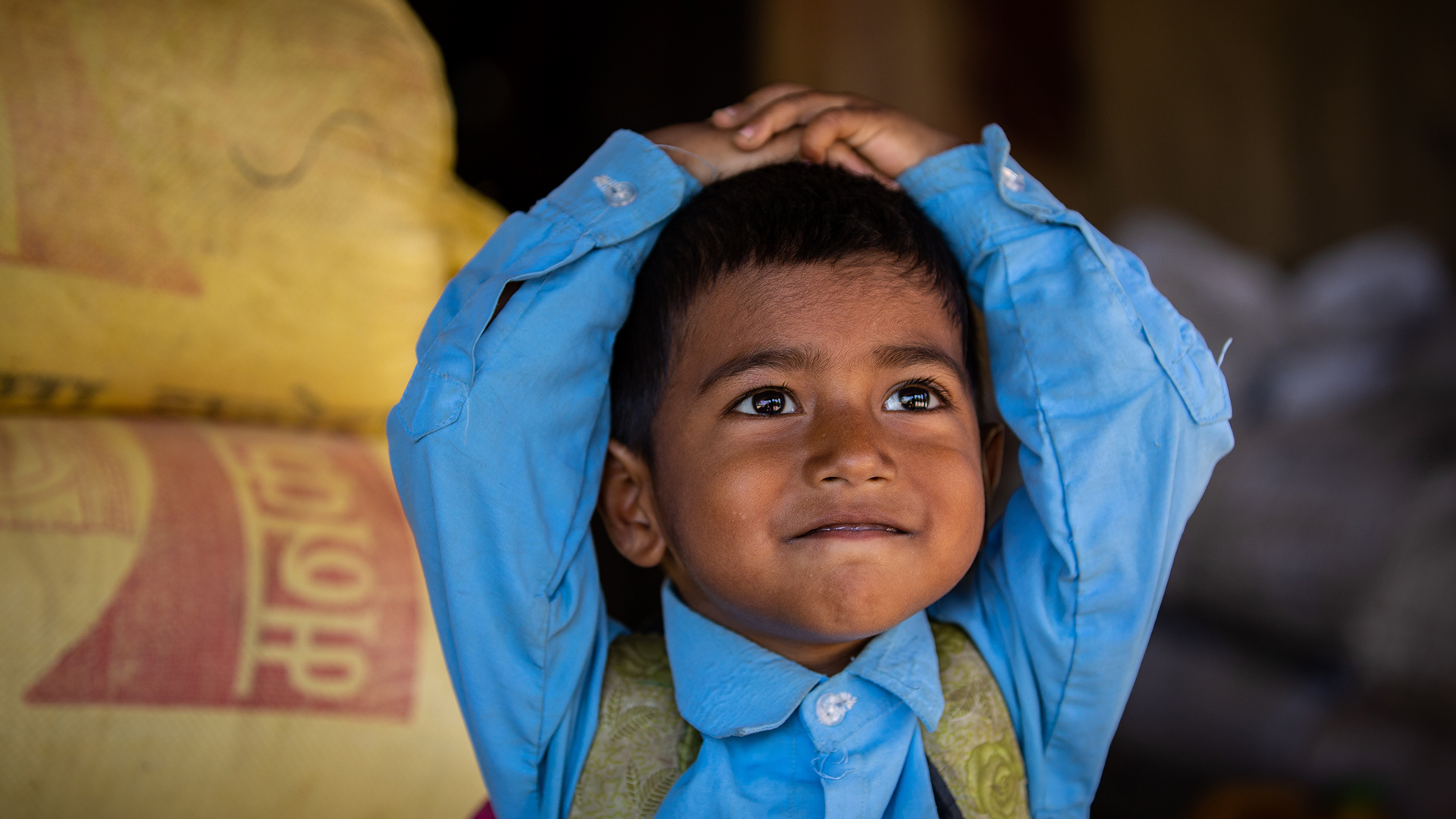 CHILD SPONSORSHIP
FAQS
More about Child Sponsorship
How will my sponsorship donation be used?
When you sponsor a child, you also support their entire community. Together with the contributions of other sponsors, you will invest in long-term, community-based programmes focused on early childhood development, health and nutrition as well as education. This means that any child in a sponsorship community – including those who may never have the opportunity to have a sponsor of their own – can benefit from your support. You'll also help our team of experts to build the skills of children, parents and community leaders to create lasting change for future generations.
What types of programs are sponsored children involved in?
Save the Children's sponsorship programs provide children with the best start to life – supporting them from birth to adulthood. While we work to address the specific needs of an individual community, we focus on five core areas:
Healthy Moms and Babies – Giving mothers and babies a healthy start in life.
The first years of a child's life are the most critical – and dangerous. Despite remarkable progress in child survival, nearly 6 million children under age 5 still die each year, mostly from preventable or treatable causes like pneumonia, diarrhea and malaria. Thanks to you, we're doing whatever it takes to ensure access to lifesaving health care, right from the start, so babies and their mothers survive and thrive.
Early Learners – Building the foundation for success in school.
All children deserve to learn and grow. Yet only about half of young children around the world have the opportunity to attend preschool. Because of sponsors like you, girls and boys can have access to the early care and development they need, both at home and within their communities, so they're ready from the start to succeed in school and life.
Successful Students – Learning today for a better tomorrow.
Every child deserves a quality education. Unfortunately, globally more than 50 million children each year are never able to set foot in a classroom. And 130 million more still can't read after years of schooling. Through school and community based reading, writing and math programs, we ensure children are in school, protected and learning, providing the best chance for success and a brighter future.
Healthy Girls and Boys – Staying healthy to learn, learning to stay healthy.
Children can't reach their full learning potential if they're not in school. Yet millions of children each year are missing out on education due to preventable illnesses caused by conditions such as unsafe water and poor sanitation and diet. Thanks to sponsors like you, we're addressing these barriers and teaching children lifelong health, hygiene and nutrition habits that they can use in school and at home – ensuring they and their families have healthy behaviors that will last far beyond their school years.
Empowered Teens – Building skills for a brighter future.
Adolescence is a time of intense change, which shapes future opportunities. But without support, young people around the world can make decisions that will compromise their futures, like dropping out of school or becoming a teen parent. Because of your generosity, we are able to help adolescents build lasting life skills for personal and workplace success so they can positively transition to adulthood —building a brighter future for themselves and their communities.
How are children chosen for sponsorship?
Save the Children has country offices and local staff in all of our sponsorship areas. Each child is identified and offered the opportunity to participate in sponsorship in consultation with their family or caregiver. It is up to the child if they want to have a sponsor. When a child receives a sponsor, they are notified by our local staff. Even if a child does not have a sponsor, they can still actively participate and receive the benefits of sponsorship programs.
Can a child have more than one sponsor?
No. When you begin sponsoring a child, you are connected to the child in a one-to-one relationship.
Will I sponsor an actual child?
Yes. When you sign-up for child sponsorship you will be connected to a specific child with whom you will be able to communicate with if you choose. This allows you to build a relationship with your sponsored child and personally share the positive changes you are making in his or her life.
How long will my sponsorship last?
Sponsorship is a voluntary, ongoing contribution that assists children and their entire communities. Save the Children's sponsorship programmes are structured to remain in a community for 8 to 10 years. You may start sponsoring a child during the early stages of our work in their community or towards the end.
Regular donations provide a stable source of income to fund programs that achieve sustainable improvements in child survival, well-being and development.
Ultimately, it is up to you how long you decide to be part of our sponsorship program.
How to Communicate With My Child
What will I receive from Save the Children or my sponsored child?
After you become a Child Sponsor with Save the Children, you will receive a Child Sponsor Welcome kit with child photo, and orientation materials to help you get your sponsorship started. Get to know more about your child's country, the use of your donation and how to communicate with your child.
Your child will write you the first letter within 2 months. You are also welcome to write to and receive correspondence from your child at any time.
Each year, you'll receive an Annual Sponsorship Report designed to let you know how your sponsored child is progressing in school and in other areas of his or her life. Along with your update, you'll receive a new photo of your child!
We will send you regular e-newsletters to keep you informed about our work and the impact we're making together for children around the world.
Donations of HK$100 or above are tax deductible. An annual receipt for monthly donation will be issued every April for tax return.
Can I send a gift to my sponsored child?
Modest gifts that fit into a C5 envelope (229mm x 162mm x 2mm) and individual items should not exceed HK$70, such as stickers, activity sheets, and colouring books, may be sent to sponsored children. However, please be aware that gifts can be lost in unreliable postal systems and gifts we deem inappropriate will not be sent to your sponsored child. Only gifts that can be shared with all children should be sent, individual gifts can sometimes cause jealousy among children.
Please see below for types of items that are not permitted:
Apparel (e.g. clothes, coats, shoes)
Accessories (e.g. hats, scarves, ties)
Breakables (e.g. glass items and dishware)
Food/Candy
Large, extravagant gifts (e.g. bikes, skateboards)
Liquids (e.g. bubbles, perfume, toothpaste)
Money
Personal hygiene products (e.g. body wash, makeup, soap)
It is not permitted nor safe to send cash directly to the child. Additional monetary gifts (over and above your monthly sponsorship donation) are always appreciated, and those funds will be applied to the programs that support your sponsored child and his or her community. If you wish to help your sponsored child's community with an extra gift, please contact our sponsor support team.
Can I visit my sponsored child?
To keep children safe and allow staff to prioritize our program work, sponsors are not able to visit their sponsored child. If you have any questions, do not hesitate to contact us at [email protected] or 3160 8786. Thank you for your understanding and continued support of our life-changing work for children in need.
Can I write to my sponsored child?
Yes, of course! Correspondence can be one of the greatest joys of sponsorship. We encourage you to correspond with your sponsored child regularly (three or four letters a year is recommended) so your sponsored child can learn about you and you can learn more about them! As you are looking to build a connection, it is best to limit the number of people who correspond with the child. Writing a letter on behalf of your family, or even having your child/grandchild correspond, is recommended so multiple people can be part of the experience. Sending photographs with your letter is also a great way for sponsors to connect with their sponsored child and for the child to put a face to a name. When sending photos, sponsors should ensure that every person in the image is appropriately dressed and the photo is culturally sensitive.
What needs to be included in letters I write to my sponsored child?
Step 1. Start your letter with your name, Sponsor ID,
sponsored child's name and Child ID
Step 2. Write your short letter and you can also attach a photo to them
Step 3. You can choose to send a letter to your sponsored child through
email or by mail
Step 4. Apply sufficient postage and mail your letter to "Child Sponsorship
Team, Save the Children Hong Kong,
8/F Pacific Plaza, 410-418 Des Voeux Road West, Sai Wan, Hong Kong"
Step 5. Email your letter to [email protected] with
subject line "Write to my sponsored child"
.
What if I want to get a reply to the child a little sooner?
If you write your letter in English through email, the translation process will be
skipped and the letter will be sent to the child a little sooner and you will receive
the reply as soon as possible.
.
If I choose to translate child letters into Chinese, can I get the original children's letter?
Yes. No matter which language you choose to communicate with your child, you will receive the original letter of the child. If you want to receive a Chinese translation, we will deliver the translation with the original.
What if my sponsored child is too young to write?
If you are sponsoring a younger child, you will receive updates about your child from a special person in that child's life – a family member, teacher or other caregiver. As your child grows older, you will experience the joy of seeing that child develop through the drawings and letters he or she begins to send you. You'll also have the satisfaction of knowing that your sponsorship support and encouragement helped make that healthy development a reality!
I am unsure what to write to my sponsored child, do you have any tips?
As many sponsored children are developing their reading and writing skills, short and thoughtful messages are best. To get to know your sponsored child better, you may wish to ask about their daily life, family and friends. Your sponsored child will be delighted to learn more about you as well, so sharing similar information is the easiest way to start a relationship.
To further your correspondence, you may want to research traditions or holidays in your sponsored child's community and ask about them. They, too, may take interest in hearing about your family's traditions. Overall your messages serve as a reminder that someone outside of their community is thinking of them, and your correspondence, whether by mail or email, will certainly be cherished.
Here are more writing tips for your reference:
Show your genuine interest and care
Respectfully and enthusiastically ask about your sponsored child's family, friends, daily life, special occasions, favorite activities and goals for the future. Words of encouragement go further than you realize. Celebrate your sponsored child's achievements and root for his or her dreams.
Share something about yourself
Kids are curious. There's no better way to build a bond than by sharing interesting details about your own life and interests.
Write simply and clearly
Use language that's free of slang or complicated ideas that may be difficult to translate or that your sponsored child may not understand. Also remember, your child may still be learning to read.
Be sensitive
Keep in mind that your sponsored child is likely living without many things we may take for granted, so try not to focus on materials items. Please avoid religion, politics or subjects that may be culturally sensitive or inappropriate. To protect privacy of all parties, please don't exchange contact information.
Including photo
Sending photographs is also a wonderful way to connect. Children love to receive photos of you doing something you enjoy. Photos are a great way to bond with them, to put a face to a name and strengthen your relationship. Please ensure that every person in each image is fully and conservatively dressed.
Please note: For the protection of you and your sponsored child, please do not include your address, email or phone number in your letters and emails or ask your sponsored child to provide their contact details.
How long does it take to receive a reply from my sponsored child?
The average letter will take about 3 months' time to receive a reply. Translation and the postal system where your sponsored child lives may cause delays. Please also keep in mind that depending on the time of year, children may be observing a school break or holiday. Although the wait time is long, you will cherish the reply!
Child Protection and Safety
May I upload photos or information of my sponsored child to social media?
Save the Children is committed to protecting the rights and security of our children who are involved in our sponsorship programme. The photograph and personal information of the child may only be held by the sponsor of our Child Sponsorship programme. When the sponsor shares the photo and information of the sponsored child online, please hide the information that can identify the child, like child ID, specific location or any sensitive information.
If the child's personal information is exposed online, Save the Children may request the sponsor to delete or modify the post.
Can I connect with my sponsored child on social media?
To protect sponsored children and sponsors like you, Save the Children does not permit communication of any type that bypasses country offices. For this reason, the sharing of personal contact information (email address, home address, telephone number, etc.) is prohibited.
If you are contacted by your sponsored child, or their family, outside of communications sent by the country office, we ask that you refrain from responding and immediately contact our sponsor support team.
How is Save the Children protecting and safeguarding sponsored children from harm?
Ensuring children are protected from harm is critical to Save the Children's work. With 100 years working to protect children, we have extensive experience and expertise in designing strategies to keep children safe.
We are committed to ensuring that our Child Sponsorship programmes create safe environments where children are protected and not only survive, but also succeed in life.
We take our responsibilities for protecting and promoting the rights of children very seriously. We are confident that our sponsors like you will join us so that together we can do our best to ensure that the children we help remain safe.
Correspondence:
In our efforts to keep children safe, we monitor the letters and gifts sent to sponsored children. To protect the privacy of all parties, we do not allow children and sponsors to exchange contact information or full names and require that all correspondence be sent to our field offices.
Visits:
An application form, release form and a background check are required. All visits to sponsorship areas must be coordinated by the country office and are fully supervised; visits are never to the child's home. Unannounced visits to our country offices are unacceptable.
Can I contact my sponsored child directly?
No. For child safety and protection reasons, all communications with the child are facilitated through Save the Children.
Are my contributions tax deductible?
Save the Children Hong Kong is registered as a charitable organization of HKSAR Government under charitable registration number 91/8943.
Donations of HK$100 or above are tax deductible. An annual receipt for monthly donation will be issued every April for tax return.
How can I update my payment information?
How do I increase my sponsorship contribution?
Additional contributions are always appreciated, and those funds will be applied to the programs that support your sponsored child and his or her community. You can also sponsor more than one child. If you wish to help your sponsored child's community with an extra gift, please contact our sponsor support team.
What happen when I need to say goodbye with my sponsored child?
Your relationship with your child is special and your support is an amazing gift. But, one day your sponsored child will graduate from the sponsorship programme. While it's difficult to say goodbye, you will have the satisfaction of knowing that because of you and other sponsors, they will be better prepared to succeed in life. We structure our sponsorship programmes so that we remain in a community for an average of 8 to 10 years. When the time comes and your sponsored child's community can be able to self-sustain their development or changes in child's situation like finish school, get married or move out of the community, we will notify you as soon as possible. We will transfer your sponsorship to another child and continue to make a lasting positive difference in the lives of children in need. Please contact us if you prefer other arrangements.
Contact Us
We would love to hear from you.
Donation and General Enquiries:
(852) 3160-8686
Child Sponsorship Enquiries:
(852) 3160-8786
8/F Pacific Plaza, 410-418 Des Voeux Road West, Sai Wan, Hong Kong
Monday to Friday: 9:30a.m. to 6:00p.m.