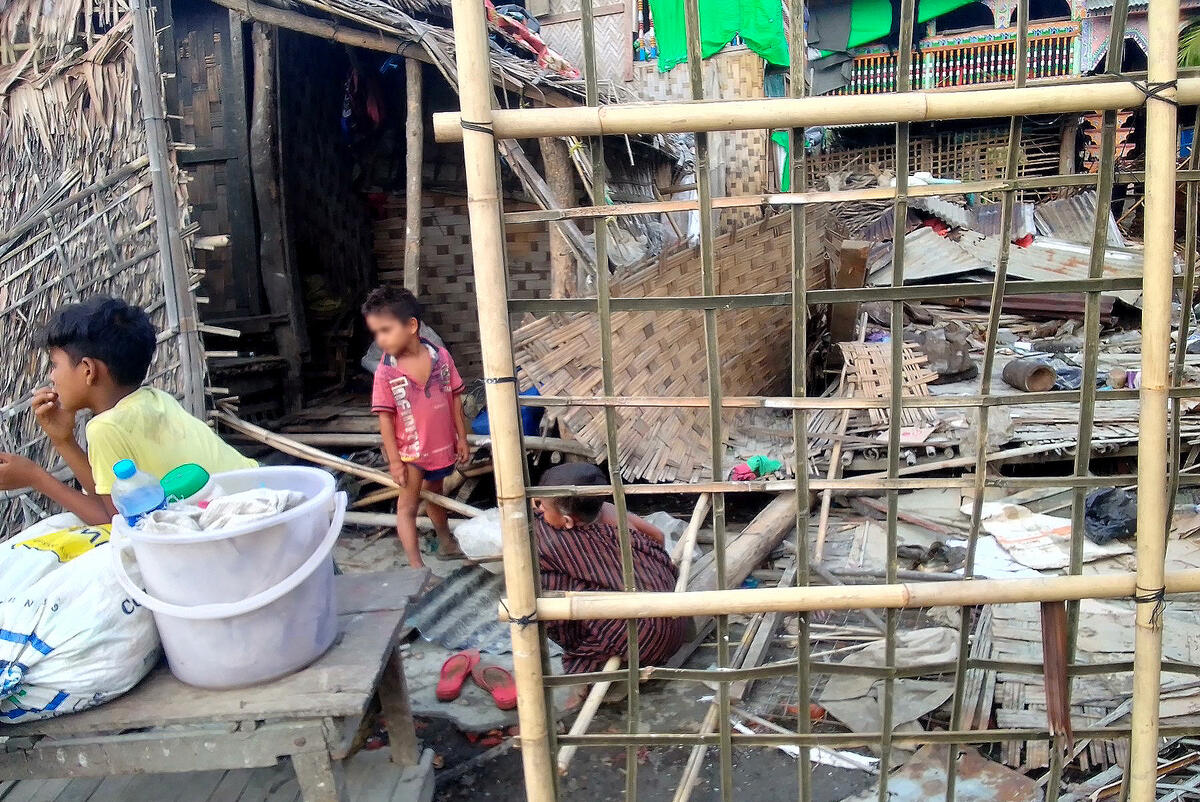 Children in
Myanmar

, 

a

mong their home, destroyed by 

Cyclone

 

Mocha

. Photo credit: Save the Children.
Homes ripped apart, power poles blocking roads, and bridges completely washed away are the scenes of destruction caused by Cyclone Mocha, according to Save the Children.
Humanitarian organisations and local communities are working around the clock on clean up and recovery efforts. Still, there are real risks that survivors may face secondary disasters, including waterborne diseases; and damage to food supplies has put thousands at risk of hunger.
Maung Thein*, a resident of a displaced camp said:
"A strong wind started to crack our roofs. Rain was pouring in from above. I heard voices shouting from far away through the roaring wind. We all were soaking wet."
 The cyclone subsided by 10 pm, but Maung Thein's* home was already destroyed by then.
 "With the tarpaulin sheets I kept before the storm, I built a temporary shelter where my whole family is staying now. I have one bag of rice left. No idea after it is all gone. Now, we share food as some households have nothing but only clothes they have on their bodies. The price of basic commodities has become very high at 1,000 kyats (0.5 USD) per egg which used to cost 200 kyats (0.1 USD). However, even with enough money, we can't purchase as much as we want, including medicines. No markets or shops are running at this moment."
 All 17 townships have been declared emergency areas. Meanwhile, in Pauk Taw township and in the northwestern township of Magway, water and sanitation access sustained extensive damage.
 Hundreds of latrines and wells are either damaged or destroyed, severely compromising both townships' access to safe drinking water and hygiene practices.
 The UN Office for the Coordination of Humanitarian Affairs (OCHA) reports an urgent need for fuel for essential public services, including health and water treatment. Public infrastructure, including health clinics, food distribution centres and schools, are also damaged or destroyed, mainly caused by heavy rains and strong winds, which reached 250 kilometers per hour (155 mph) at the height of the storm.
 Casualties continue to be reported, though the exact numbers still have not been verified, as communications remain limited across the affected areas.
 Hassan Noor, Asia Regional Director at Save the Children, said:
"This is one of the most powerful cyclones to hit Myanmar in decades, and the situation for children is likely to be chaotic and stressful. In addition to shelter, clean water, and food assistance, it is imperative we support children's health and wellbeing as part of our humanitarian response."
 "Currently, many roads are still inaccessible, but it is becoming clear that an enormous amount of support will be required in the coming days, and we must act quickly to limit the devastating impact caused to millions of families."
 Save the Children and partners in Myanmar are delivering life-saving supplies, including food, clean water, health services, hygiene, and education kits as well as providing psychosocial support to children.
 *Name changed to protect identities.